Buy and sell your boat with Val Wyatt Marine
We offer an extensive range of quality services – from a thriving brokerage for new and used boats, to a dedicated, privately owned five acre marina, where we provide moorings and storage, as well as a full suite of professional cleaning, maintenance and repair services.
We offer an extensive range of quality services – from a thriving brokerage for new and used boats, to a dedicated, privately owned five acre marina, where we provide moorings and storage, as well as a full suite of professional cleaning, maintenance and repair services.
We may be smaller than some other marinas in the vicinity, but that means we can offer a more personalised experience. Our expert team is on-hand to provide accompanied viewings seven days a week, providing the perfect opportunity to answer any questions.
Peace of mind
Founded in 1845 and long-standing members of the trade association British Marine, we have been trusted by thousands of customers to find their perfect vessel.
Chosen Agents
We are incredibly proud to work closely with some of the very best names across the boating sector, including Corsiva, Interboat, Intercruiser and Haines.
Excellent Service
Our friendly and knowledgeable team are passionate about the boats we sell and those we maintain for our clients at our secure and modern marina.
Anywhere in the UK
We have an excellent track record of helping customers to buy and sell boats throughout the UK, as well as offering an international delivery service.
Helping the environment
We are committed to constantly improving and implementing changes to lessen our impact on the environment. We want to care for and preserve the eco-systems around us and we've created a comprehensive environmental policy and a list of commitments in order to do this. All rivers lead to the ocean and we share responsibility to protect and enhance the biodiversity on land and in the Thames. We need to ensure we are not adding to the environmental crisis, but be part of the solution.
The latest from Interboat: The Intender 950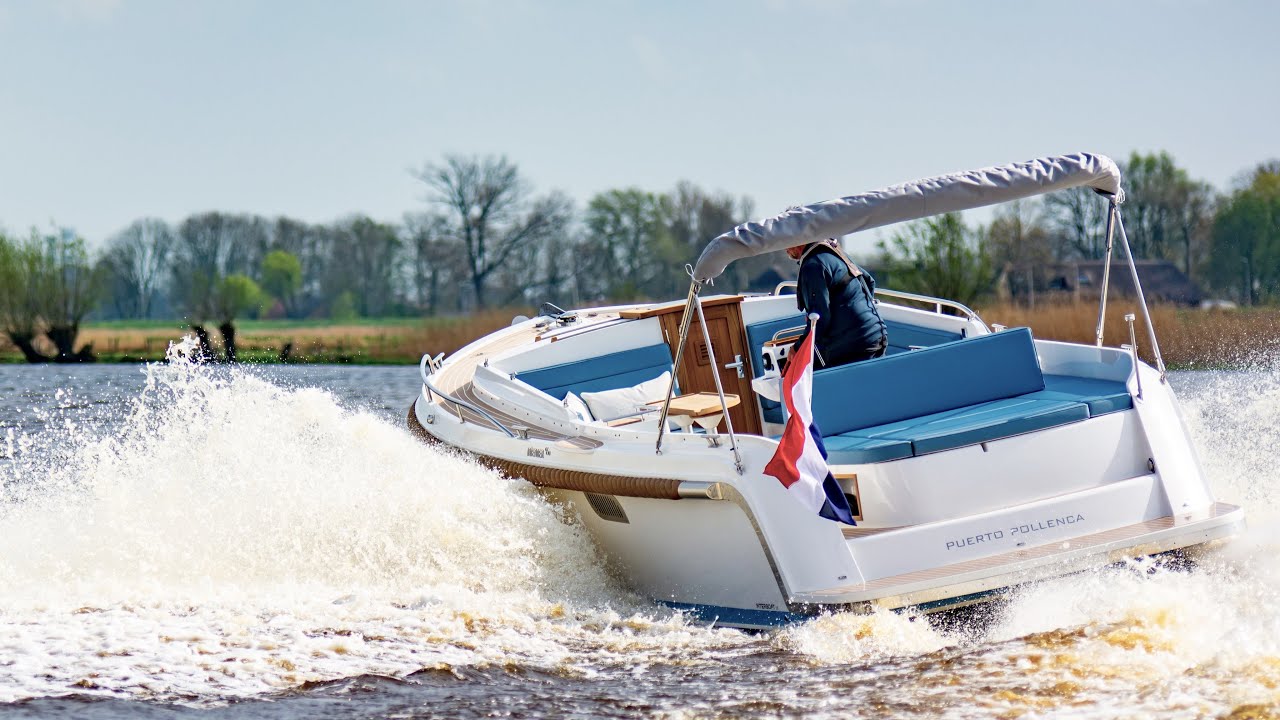 Video duration: 8 minutes 1 second
"We have been berth holders at Val Wyatt since we moved to Wargrave almost 20 years ago. Val Wyatt is a superb marina made great by the people that run it. All the staff are friendly, helpful and always there to help out with anything and arrange boat maintenance and repairs for us. The marina setting is beautiful, but it's the people at Val Wyatt that make it a special place to keep your boat."
"Excellent, helpful and knowledgeable staff make you very welcome, a well-maintained marina with a great selection of boats on offer. One of the prettiest marinas on the Thames, everything one could need for a perfect days boating on the Thames."
"We purchased our boat from Val Wyatt in 1987 and have moored her there ever since. We have always been delighted with their helpfulness and approach to ensuring their boat owners receive excellent service. We have no hesitation in recommending them for the purchase of a boat and for their services as a marina for mooring your boat."
"We have been berth holders at the marina for eleven years and think it's probably the best marina between Teddington and Oxford. It's a great place to keep a boat because it has everything: the staff and management are friendly, approachable and open – more like friends."
"Val Wyatt Marine provide winter storage, service and maintenance for my boat at competitive prices and prepare my boat for each new season. The staff at Val Wyatt are a delight to deal with. I would, without reservation recommend Val Wyatt Marine for a complete boating service."
Frequently asked questions
Can i pop in to visit you?
Absolutely! We can get busy – especially on weekends – so if you would like to view a particular boat, we do recommend you book an appointment with us by calling 01189 403211.
How much does it cost to keep a boat?
A general rule of thumb is that if you take your mooring fee, and double it, that will typically be the average cost for looking after your boat each year. This includes insurance, river licence, maintenance, wear and tear repairs, plus a good amount of fuel (assuming you're sailing on inland waterways, not offshore powerboating).
Do you have moorings available?
For the last few years our moorings have been full. Our current waiting list is for those who have purchased a new boat through us, so sadly it is often tricky to get a space in our marina for existing boat owners.
Can you sell my boat?
If it's a motorboat in good condition, then most likely – yes! We will be fully transparent about the asking price of your boat, and we will only encourage you to list with us when we are confident we can get great value for you. We specialise in glass-fibre motorboats from £10,000 through to £500,000 – and can lift boats up to 42 foot / 14 tonnes. If we cannot help, we'd be more than happy to recommend an alternative broker.
Do you have space for a narrowboat?
Unfortunately, we cannot accommodate narrowboats as our moorings are limited in size and we can only lift motorboats.
Do you have a chandlery?
MEC Marine runs a chandlery in Willow Marina, but they are a separate business to us, so please call them directly on 01189 401141.
Check out the Val Wyatt blog
Our ultimate guide to choosing a dayboat
The Covid-19 pandemic profoundly affected our relationship with the outdoors. Since then, recreational boating has become increasingly popular in the UK. The latest Boating and Boat...